Jeff Biggers is an award-winning historian, journalist and playwright. His stories have appeared on National Public Radio and Public Radio Radio International, and in the New York Times, Washington Post, Guardian, Atlantic Monthly, Huffington Post, Salon, The Nation, Al Jazeera, Brick Magazine (Toronto) and Il Giornale (Italy).  As a playwright and performer of monologues, he appears frequently at theatres, festivals, conferences and schools. Presently based in Iowa and Italy, Biggers has worked as a writer, performer and educator across the United States, Europe, India, and Mexico.
In a starred review, Publishers Weekly praised his most recent book, The Trials of a Scold: The Incredible True Story of Writer Anne Royall, as "the astonishing life story of the pioneering muckraker." The Trials was longlisted for the 2018 PEN/Bograd Weld Prize for Biography.
In the summer of 2018, Counterpoint Press will publish Biggers' Resistance: Reclaiming an American Tradition. "Reading this book, I saw history vanquish amnesia, David slay Goliath, and tenacity take down tyrants," scientist and author Sandra Steingraber wrote. "I saw a long, unbroken chain of resistance extending back through centuries. I saw the world saved over and over. I saw heroes and declared them my ancestors. I heard stories to inspire bold action. I found traditions I want to pass on."
His most recent full-length play, Damnatio Memoriae: A Play, Una Commedia, was published in English and Italian by Wings Press in the fall of 2015. Italian historian Alessandro Portelli called it a "brilliant and provocative work that uses humor, parody and a deep-seated sense of justice to remind us of the multi-ethnic nature of the Roman Empire and, through that, to alert us to the loss of memory and to the historical challenges of our time."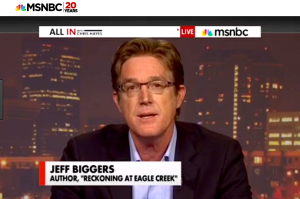 His nonfiction works include State Out of the Union, selected by Publishers Weekly as a Top Ten Social Science Book in 2012; Reckoning at Eagle Creek, recipient of the Delta Award for Literature and the David Brower Award for Environmental Reporting; In the Sierra Madre, winner of the Foreword Magazine Travel Book of the Year Award; and The United States of Appalachia, praised by the Citizen Times as a "masterpiece of popular history." He also served as co-editor of No Lonesome Road: Selected Prose and Poems of Don West, which won the American Book Award, and wrote the foreword to the re-issue of Huey Perry's classic, They'll Cut Off Your Project.
Biggers is the founder of the Climate Narrative Project, an arts and advocacy project for schools, universities and organizations. From 2014-2017, he served as the Sustainability Writer-in-Residence at the University of Iowa. He also served as the Campbell-Stripling Distinguished Writer-in-Residence at Wesleyan College in Georgia. Over the past decade, Biggers has given lectures, readings and performances at over 100 universities and colleges across the country, from the University of California in Berkeley to the University of Mississippi to Yale University. He has delivered the keynote address at numerous literary, urban planning and environmental conferences. He serves as a contributing editor to The Bloomsbury Review, and is a member of the PEN American Center.
His work has received numerous honors, including an American Book Award, the David Brower Award for Environmental Reporting, Foreword Magazine Book of the Year Award, Lowell Thomas Award for Travel Journalism, Delta Award for Literature, Plattner Award for Appalachian Literature, an Illinois Arts Council Creative Non-Fiction Award, the Garst Memorial Award for Media (UN Association Iowa), Calumet Artist Residency and a Field Foundation Fellowship. His play, "4 1/2 Hours: Across the Stones of Fire," won the "Greener Planet Award" at the Planet Connections Theatre Festivity in New York City, and has appeared at theatres around the country. Blue Ridge Outdoors Magazine selected Biggers as one of its 100 Pioneers.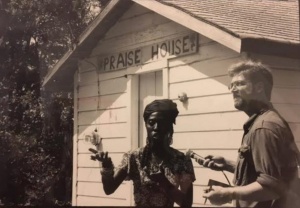 In the 1990s, as part of his work to develop literacy and literary programs in rural communities in the American Southwest, he founded the Northern Arizona Book Festival.  In the 1980s, Biggers served as an assistant to former Senator George McGovern in Washington, DC, and as an aide to Rev. William Sloane Coffin at the Riverside Church in New York City, where he co-founded the Interfaith Assembly on Homelessness and Housing.
Biggers earned a B.A. in History/English from Hunter College, with additional study at Columbia University, the University of California in Berkeley, and the University of Arizona.
He has also appeared on numerous TV and radio programs as a commentator and expert, including MSNBC's All in with Chris Hayes, the Rachel Maddow Show, and Ed Shultz Show, the NBC Nightly News, CNN, Democracy Now, Laura Flander's GRIT TV, and the Thomas Hartmann Show. Biggers has filed several commentaries for National Public Radio's Morning Edition, American Public Radio's Marketplace, and served as a regulator contributor for PRI's Savvy Traveler.
To book Jeff as a speaker or to lead a workshop, Contact Jeff Biggers.