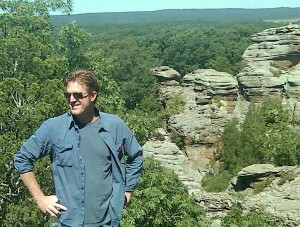 Jeff Biggers has worked as a writer, performer and educator across the United States, Europe, India, and Mexico. He is the author of several books of memoir, history and investigative reporting. His award-winning stories have appeared on National Public Radio, Public Radio International, and in the New York Times, Washington Post, The Guardian, The Atlantic Monthly, Salon, The Nation, Al Jazeera America, and Corriere della Sera (Italy). He blogs for the Huffington Post. As a playwright and performer of monologues, Biggers appears frequently at theatres, festivals, conferences and schools.
His most recent full-length play, Damnatio Memoriae: A Play, Una Commedia, was published in English and Italian by Wings Press in the fall of 2015.
His nonfiction works include State Out of the Union, selected by Publishers Weekly as a Top Ten Social Science Book in 2012; Reckoning at Eagle Creek, recipient of the Delta Award for Literature and the David Brower Award for Environmental Reporting; In the Sierra Madre, winner of the Foreword Magazine Travel Book of the Year Award; and The United States of Appalachia, praised by the Citizen Times as a "masterpiece of popular history." He also served as co-editor of No Lonesome Road: Selected Prose and Poems of Don West, which won the American Book Award, and wrote the foreword to the re-issue of Huey Perry's classic, They'll Cut Off Your Project. 
Biggers serves as the Writer-in-Residence at the University of Iowa's Office of Sustainability, where he founded the Climate Narrative Project and cofounded the Ecopolis Forum.  He is presently at work on Trials of a Scold, a biography of Anne Royall, the godmother of muckraking journalism, which will be published by St. Martin's Press. Biggers is editor of a forthcoming book, Ecopolis: Envisioning a Regenerative City in the Heartland, for the University of Iowa Press.
His work has received numerous honors, including an American Book Award, the David Brower Award for Environmental Reporting, Foreword Magazine Book of the Year Award, Lowell Thomas Award for Travel Journalism, Delta Award for Literature, Plattner Award for Appalachian Literature, an Illinois Arts Council Creative Non-Fiction Award, and a Field Foundation Fellowship.  He serves as a contributing editor to The Bloomsbury Review, and is a member of the PEN American Center. His play, "4 1/2 Hours: Across the Stones of Fire," won the "Greener Planet Award" at the Planet Connections Theatre Festivity in New York City, and has appeared at theatres around the country. Blue Ridge Outdoors Magazine selected Biggers as one of its 100 Pioneers.
In the 1990s, as part of his work to develop literacy and literary programs in rural communities in the American Southwest, he founded the Northern Arizona Book Festival.  In the 1980s, Biggers served as an assistant to former Senator George McGovern in Washington, DC, and as a personal aide to Rev. William Sloane Coffin at the Riverside Church in New York City, where he co-founded the Interfaith Assembly on Homelessness and Housing.
Biggers earned a B.A. in History/English from Hunter College/CUNY, with additional study at Columbia University, the University of California in Berkeley, and the University of Arizona.
Lectures, Readings & Performances
Jeff Biggers has given lectures, readings and performances at over 100 universities and colleges across the country, from the University of California in Berkeley to the University of Mississippi to Yale University. He served as the Campbell-Stripling Distinguished Writer in Residence at Wesleyan College in Georgia. He has delivered the keynote address at numerous educational, environmental and literary conferences, and has participated in book festivals in 30 states. He also leads workshops for students and writers on creative writing, narrative nonfiction, environmental writing, clean energy and sustainable development, multicultural education, and art and activism.
He has also appeared on numerous TV and radio programs as a commentator and expert, including MSNBC's All in with Chris Hayes, the Rachel Maddow Show, and Ed Shultz Show, the NBC Nightly News, CNN, Democracy Now, Laura Flander's GRIT TV, and the Thomas Hartmann Show. Biggers has filed several commentaries for National Public Radio's Morning Edition, American Public Radio's Marketplace, and served as a regulator contributor for PRI's Savvy Traveler.
To book Jeff as a speaker or to lead a workshop, Contact Jeff Biggers.