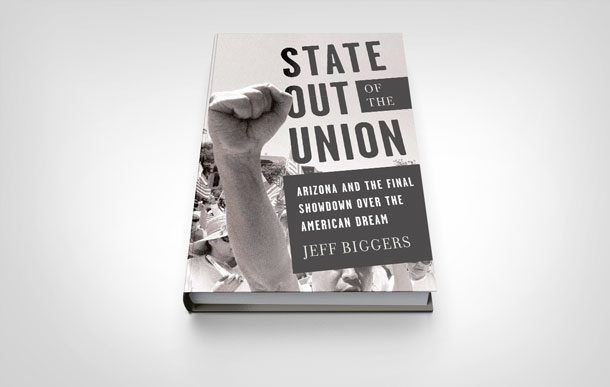 As Anti-Immigrant "Papers" Law Takes Effect, Jeff Biggers on Arizona, the "State Out of the Union"
Interview with Amy Goodman on Democracy Now
Summary
In a riveting account of how one of the most radical Tea Party factions took control of a state legislature and manufactured an immigration crisis to ram through its extremist agenda, award-winning journalist and cultural historian Jeff Biggers chronicles how Arizona and its growing bevy of nationally lampooned politicians have not only dislodged Sarah Palin as the darling of Fox News and the brunt of jokes on late night TV shows, but set in motion one of the most alarming challenges to federal authority in recent history. As the bellwether of rebellion, with its once ridiculed actions turning into blueprints for legislatures from Alaska to Alabama, STATE OUT OF THE UNION chronicles how the Arizonification of America has turned the 48th state into ground zero in a burgeoning national clash over a historic demographic shift taking place across the country with the rise of a newly empowered Latino electorate.
Opening a new window into the complex history of American immigration conflicts, Biggers expertly shows that to understand the Arizonification of America, it is essential first to understand the history of Arizona.
Biggers draws on the contradictions, myths and facts of the state's century and a half of conflict over labor and civil rights, and cyclical upheavals over immigration rights, dating back to the national battle over Arizona's territorial role in the Civil War, its contentious entry into statehood and its progressive constitution, to place Arizona's colliding cultural histories into a backdrop for a greater American story playing out in the nation's famed frontier state.
With an insider's account of the emerging new civil rights movement that is reframing the national debate over immigration, STATE OUT OF THE UNION captures the extraordinary voices in a modern-day David vs. Goliath story: After the signing of Arizona's saber-rattling SB 1070 "papers please" law erupts into a national brawl over immigration issues, a new generation of social media savvy young Latino activists, retiring baby boomers and their moderate allies lead a courageous movement to reclaim the state from nativist extremists, take down the self-proclaimed architect of SB 1070 in a historic recall election, and defend Tucson's acclaimed Ethnic Studies Program from censorship.
Read Jeff Biggers' oped in the New York Times: "The Other Arizona"
Read an interview on CultureStrike with Jeff Biggers: Rogue State
Read an excerpt in Salon: Can this activist save Arizona?
Interview on NPR's Takeaway: Arizona as Bellwether?
Read an excerpt in New York Times: A Mexican Immigrant's Act of Honor
Read an excerpt at Tucson Weekly: One of Those Little Barefooted Mexican Kids
Watch Jeff Biggers on CSPAN BOOK TV: State Out of the Union at Changing Hands Bookstore
Read a review in Kirkus Reviews: State Out of the Union
Read a  review in Iowa Press Citizen: Where Conversations on Immigration Begin, End
Review a review in San Antonio Express: Parched Political Landscape
Read a review in El Paso Times: Taking Back Arizona
Read an interview with the Arizona Daily Sun: Fighting Words: Ex-Book Fest Head Returns with New Book
Read a review in Roanoke Times: The Back Cover
Interview on PBS-TV Horizon: State Out of the Union