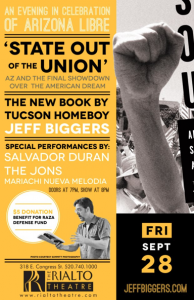 Please check back for more details about the State of the Union Tour.
21 Sept: Chicago
Librotraficantes Event: 50 for Freedom 
Instituto del Progreso Latino, 2570 S. Blue Island
24 Sept: NYC
CultureStrike Event: 7:00pm, Performance Project, 184 Eldridge Street, New York, NY
25 Sept: Boston
U Mass Boston
2pm, Latino Studies Program, the Labor Resource Center, the Office of Student Affairs, the Provost's Office, and the Trotter Institute for the Study of Black Culture.
26 Sept: DC
6:30pm: Benefit for Teaching or Change, Save Ethnic Studies/Raza Defense Fund
28 Sept: Tucson
8pm, Rialto Theatre Kickoff Show with Salvador Duran, the Jons, Mariachi Nueva Melodia
29 Sept: Albuquerque
ABQ Cultural Conference
3:30-7pm, Harwood Art Center
30 Sept: Sedona
2pm, Church of the Red Rocks
30 Sept: Flagstaff, AZ
7pm, Theatrikos, 11 West Cherry Avenue
Host: Flagstaff for Democracy
1 Oct: Phoenix/Tempe
Phoenix Central High School
7pm, Changing Hands Bookstore
6428 S McClintock Dr, Tempe, AZ 85283
480.730.0205 Directions
2 Oct: LA / Northridge
4pm, Cal State--Northridge
2 Oct: LA / San Fernando Valley
7:30pm, Tia Chucha Cafe Cultural and Bookstore
13197-A Gladstone Ave.
Sylmar, CA 91342
Phone:(818) 939-3433
3 Oct: San Diego
SDSU Lecture Series
7pm, SDSU Library
4 Oct: LA/ Santa Monica
7:30 pm, Benefit Reading for Santa Monica Youth Center
Thelma Terry Center, 2200 Virginia Ave. Santa Monica
5 Oct: Oakland
ARISE High School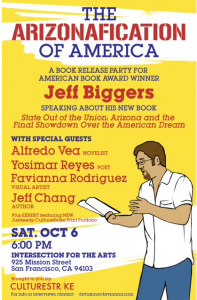 6 Oct: San Francisco
6:30pm
CultureStrike Celebration, Intersection for the Arts, 925 Mission Street, San Francisco CA 94103
8 Oct: Palo Alto
12noon, Harmony House, Stanford University: Conversation with Ruben Martinez
8 Oct: San Francisco
SFSU Reading
Location and Time TBA
10 Oct: Phoenix
6:30 – 8:00
Provencal Room at the Wright House
626 West University Dr. Mesa Az.
Hosts: Progressive Democrats of Arizona/Citizens for a Better Arizona
11 Oct: Denver
7:30pm, Tattered Cover Bookstore
2526 East Colfax Avenue, Denver, CO 80206 Directions
15 Oct: Milwaukee
Host: Rethinking Schools
18 Oct: St. Louis
Left Bank Books
7pm, Central West End
21 Oct: Iowa City
Prairie Lights
15 South Dubuque Street, Iowa City, IA 52240 Directions
1pm
23 Oct: Dallas
with author Reyna Grande
7pm, Barnes and Noble, 7700 W. Northwest Highway
24 Oct: Houston
6:30, Nuestra Palabra Reading Series, Westheimer Crossing, 7626 Westheimer, Houston,
25 Oct: San Antonio
27-28 Oct: Austin
Location and Time TBA
14 Nov: Athens, GA
Benefit for Freedom University/Beyond Coal
University of Georgia. Location and Time TBA
15-16 Nov: Georgia
Writer-in-residence, Wesleyan College, GA
Location TBA
18 Nov: Miami
// Nov: Charlotte
Date, Location and Time TBA
// Nov: Columbus, OH
Ohio Action Circle - Central Ohio Immigrant Justice
7pm, First Unitarian Universalist Church of Columbus
93 W Weisheimer
Columbus, Ohio
// Nov: Chicago